Lead Vocals
---
Amelia has loved music all her life. She grew up listening to CCR and Janis Joplin and has never lost the love of classic rock music. She attended Concordia University and received a BA in K-12 music education and also a degree in theater education. She gives private voice and piano lessons in Washington County Amelia has also been seen in many theater productions in the Milwaukee area, the most recent at the Hartford's Schauer Center Previously when Amelia had spare time – she was an avid karaoke bar enthusiast and was also a national finalist in past years world karaoke contest in Kentucky. She states that "Joining Vinyl Road has been a great experience where she gets to meld her love of classic rock with singing and performing". Currently Amelia's spare time has been traded in for two beautiful baby twin boys yet still finds time for Vinyl Road and sharing her great vocal abilities with us all.
Lead Vocals & Guitar
---
Growing up, Chad was heavily influenced by his parent's eclectic taste in music…from Folk to Classic Rock, from Classic Country to Motown, music was a constant. At the age of 13, he borrowed his sister's classical guitar and began taking lessons with his Father. As he grew up, his musical tastes changed, and he was introduced to the most influential group of his life…the Grateful Dead. His other musical influences include Bob Dylan, Eric Clapton, Arlo Guthrie, Johnny Cash, Willie Nelson, Ben Harper and Trey Anastasio. After a brief hiatus, Chad rejoined Vinyl Road in August of 2016, as a singer and rhythm guitarist.
Glenn
Lead Guitar
---
Glenn's musical background started at the age of 7 years old when he began playing piano. At the age of 12, he took up cello and excelled at that playing in both his high school band and the Milwaukee All City Orchestra. After high school, Glenn became involved in competitive sports (those that involved beer anyways), and put his musical career on hold. As time passed, Glenn's interest in music remained strong, attending many venues with live bands and listening to great local classic rock bands. After many years of attending shows and being fascinated by the local Milwaukee band "Rhythm Method" his passion to be a guitarist and play that genre of music became overwhelming. At the young age of 51, Glenn took up guitar, and started a new journey in life. Through several small band projects, he met other aspiring musicians, and formed "Vinyl Road" with Chad and Dan in August of 2011. Glenn's musical influences focus on the groups rather than individual artists. Groups such as:; Styx, REO Speedwagon, Deep Purple, Foreigner, The Cars, Rainbow. The list could go on and on. Glenn's passion as part of Vinyl Road is to play great classic rock music from the past to the present with great rock that all enjoy (including of course Glenn!).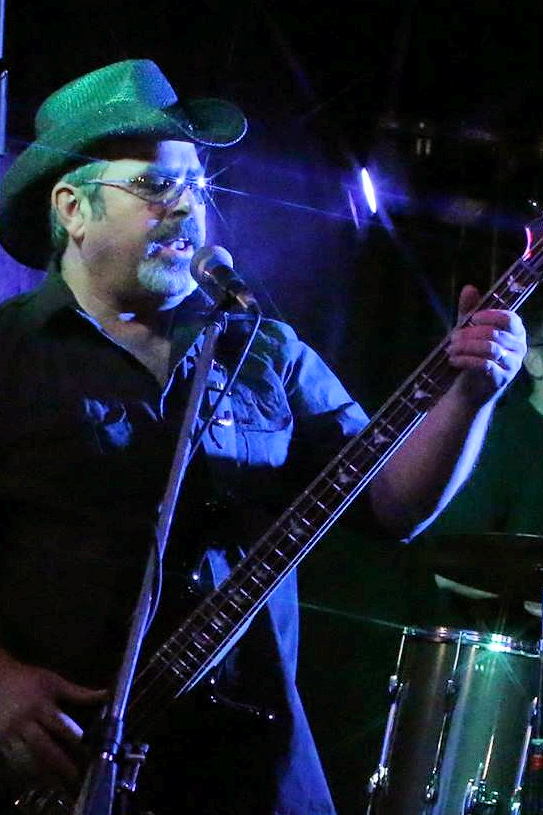 Dan
Bass & Vocals
---
Dan's love for music goes back to when he was 6 driving around with his older brother Bill, jamming to Kiss, Aerosmith, Alice Cooper and The Stones. Around the age of 13 he started working with the band Moonstruck as a drum tech and behind the sound board but knew it was not the roll he wanted. Picking up the bass in 1980, Dan was on his way… soon playing in rock bands N.I.X. and then Mirrors. Later in the 80's he played around the Milwaukee area in the heavy metal band Aggressor, which evolved into the mostly 'originals' thrash metal band IMPACT. Dan's bass playing can be heard on IMPACT's "Take the Pain" CD. Around 1990, Dan put the bass down for family life, but his love for music kept him jamming with friends and working around the area for 20 years for the DJ Service "Sincerely Yours". Dan has also enjoyed sitting behind the drum kit over the years. He has jammed with an assortment of talented musicians including the "Rock-N-Roll Wilderness Blues Band" of Northern Wisconsin and spent 2 years as Vinyl Road's drummer. Now Dan is back where he belongs – playing the 'heavy 4-string' on great classic rock tunes……. traveling down the Vinyl Road.
Steve - aka "Fish"
Drums & Percussion
---
My drum days started when I was 10 years old, when my brother who was a Disc Jockey would put together seaming songs for his gigs...I would play along with the records by ear day and night when he was preparing, this formed my ease of picking up songs and a large spectrum of styles and genres. From Frank Sinatra, Rolling Stones, Michael Jackson, Beatles...and pretty much all in between lol... During the next phase I took lessons for 3 years on reading music and drum rudiments which I quickly incorporated into my drumming style.. Liking all types of music growing up I joined Flashback at 17, a rock and roll 60;'s flavored band that was featured on local radio stations. Time for reality I opened my own Tropical fish biz and having then having a family was important to me..and the sticks so I thought were hung up. 20 Years passed and I was approached for a reunion of Flashback, so I sat in and realized how much I missed the drums...that was 7 years ago. Steve "Fish" Banach - Drums Is that a train? A tornado? The ghost of John Bonham? No, it's Steve aka "Fish" bringing down the house with a seemingly endless stream of classic rock beats and flashy fills reminiscent of Moon and Pert. Be prepared for a wall of groovy, percussive sound as Fish makes the music move along while you join together with the band